News
Benefits of Playing a Golf Tournament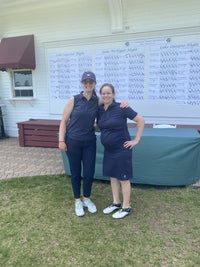 This summer, I played in my first golf tournament since I was about 10 years old.  I typically play golf pretty casually so 36 holes of individual stroke play (read: no gimme putts or mulligans) was daunting.  However, I had a great time and reflected on 4 unexpected reasons to play tournament golf:
1. Fit More Golf Into Your Life
I have 3 young kids, a full time job in marketing, own and operate Playing9 and aim to have some type of social life.  None of that has changed, however having a tournament mid-summer made me find more ways to fit golf into my schedule.  I found a group of co-workers to play 9 holes with weekly at 7AM, turned date nights with my husband into golf, and took my kids out to a local Par 3 course on Saturdays to work on my short game.  It was fun to find ways to fit golf into my schedule!
2. Improve your Putting
Knowing there would not be gimme putts in the tournament meant that I really began to focus on those 2-3 foot putts that I used to pickup in the name of 'pace of play.'  I would spend an extra 5-10 minutes after a round on the practice green doing short putting drills.  This helped me work on basic mechanics and really translated to better long putts as well.
3. Establish a Handicap
Depending on where you play, a handicap likely costs $30 - $50 per season but it's a great investment in your game! It will allow you to play in tournaments, participate in member / guest events at country clubs, and have more fun playing with golfers of different abilities.  I learned how to play skins at this tournament which made the practice round way more fun! I didn't score great, but had a couple of good holes that won a skin!  
4. Meet Other Female Golfers
I was very nervous to tee off on the first day, and then had a great realization - so was everyone else! Even the ladies who had golfed in many tournaments still dealt with some nerves, but they offered me plenty of tips to ensure it was a fun event.  I golfed with ladies ranging from 20 to 82, learned some new courses to try, and even got invited to play with one of my playing partners back at her home course.  I'm used to playing mostly with men so it was a great change of pace to golf with over 60 women for 3 days!
I am so glad that I pushed myself to try my first tournament event and will definitely keep competing to better my game and spend more time enjoying a sport I love!  Let me know about your tournament play - email me at headpro@playingnine.com.  I offer discounts to coaches and teaching pros as a way to give back to women making a living from this great sport!