News
Can I Golf While Pregnant?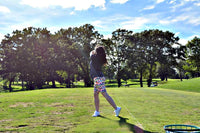 There are several blog posts on the internet about golfing while pregnant. Provided your doctor approves of the activity, golfing while pregnant is a great way to get exercise and enjoy the outdoors! 
One reason I really enjoyed golfing while pregnant was that I could tailor the amount of exercise I received to what my body told me that day.....walking 18 holes on a good day or carting 9 holes on a tired day. My member member golf partner still teases me about showing up to our club's annual tournament with McDonald's about five minutes before our tee time (I had extreme morning sickness for over 20 weeks and for some reason, McDonald's cheeseburgers were the only thing I could keep down).
Most of the articles I read online are focused on the exercise benefits of golfing while pregnant. However, I recently came across an article about swing tips for expecting golfers published by Greg Stephens, Director of Golf at Victory Ranch and a member of the Nike Golf Elite Advisory staff that I wanted to share. Greg drafted this article while his superstar wife, Randi, was expecting their first child. Click here to read Greg's tips on enjoying golf while expecting.
While Playing 9 missed the deadline for baby #1, I hope to provide Randi with a tailored golf shirt and skort should her family grow so she can feel as confident in her clothing as she does when swinging her club!
Sincerely,
Anna
Playing 9